Hard work surely pays off. Especially when you devote your time doing what you love the most! Whatever you decide to do in life, do it with your full heart! Here at McElroy Weddings we appreciate talent and hard work.
That being said, here are some of the categories of the 2016 Best of Boston Winners:
Wedding Beauty
 2016 Best Makeup Artist:
Congratulations to the BLUSH team, located in Hingham, MA where they make bride's dreams come true in their Tryst Studio! At BLUSH they believe in exceeding expectations and this award shows that they have done just that! Every woman or man should feel beautiful on their wedding day, enhancing their natural beauty, and making their inner sparkle shine bright!
2016 Best Spray Tan:
Great work to the team at Pure Glow in Boston! Spray tans have become all the rage in the last couple years, as baking in the sun has become less then smart. At Pure Glow they use a paraben-, formaldehyde-, and retinol-free spray tanning formula. They also use a technique by applying the formula by hand, which allows the application to be distributed more evenly! Woo-hoo for Pure Glow!
2016 Best Manicure/Pedicure:
Who said nails aren't important?! When it comes to your wedding day, every single detail counts, even on you! Congrats to MiniLuxe in Boston for making even the smallest details count.  At MiniLuxe they strictly focus on manicures, pedicures, and waxing. Awesome job MiniLuxe!2016 Best Eyelash and Eyebrow Extensions:
I think we all know by now that eyebrow
s and eyelashes are the main focus of everyone's face…well at least us beauty addicts girls know! Congratulations to Lash L'Amour in Boston for making every girls dream come true! Say hello to long luscious eyelashes and defined eyebrows! Great work!
2016 Best Wedding Hairstylist:
Congratulations Stacey Kuehn for winning best wedding hairstylist located in Boston! When it comes to hair don't mess with the bride! Having a great hairstylist is key for your wedding day. Great work Stacey Kuehn for making brides feel beautiful with their long or short locks!
2016 Best Day Spa:
Relaxing prior to your wedding day is important, as you want to be in your best spirits for your big day. Congratulations to Mandarin Oriental located in Boston for creating a relaxing, comfortable, and peaceful atmosphere for your clients! Amazing work!
Wedding Décor, Music, and Services
2016 Best Event Planner and Designer:
Congratulations to Janie Haas Events located
in North Andover! With over 30 years experience Janie Haas has been making brides swoon over her exceptional work, making their vision come to life! Also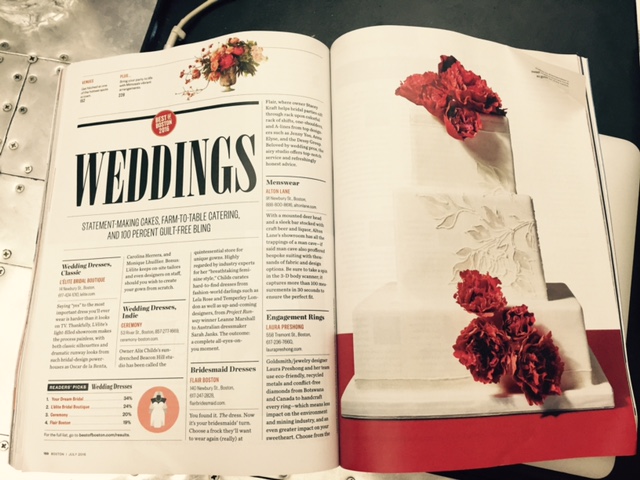 , congratulations to Lauren Wells, an Event Designer located in Boston whose career revolves around wedding details and decorations!
2016 Best Band and DJ:
Fantastic job to the band Flipside! When it comes to wedding fun, music is an obvious must have. Every bride and groom want their guests to have just as fun as they are! Congrats to Flipside for making every wedding memorable! Also, congrats to Mike Amado, a DJ with much experience with wedding crowds. Using a variety of music, which will get you out on the dance floor!
2016 Best Wedding Videographer and Photographer:
Congrats to Brighter Lights Media for winning best Videographer! Being able to re-watch your special day, share it with family members, or even be able to show your film to your kids one day is something every groom and bride look forward to. As well as being able to share memories of your big day through pictures! Great work Cambria Grace for winning best wedding photographer of 2016!
Additional winners:
Congrats to The Danger Booth for winning best wedding photo booth in 2016! As well as, Peterson Party Center located in Woburn who has all the necessary equipment for your venue!
Wedding fashion and shopping
Anything that makes a bride feel like a princess is a must have! Congrats to the winner Candice Wu Couture, Ceremony, L'elite Bridal Boutique, and Your Dream Bridal for providing the best wedding dresses in Boston. Shreve, Crump & Low for best weddings bands, Simon Pierce for best wedding registry, Alton Lane for best menswear, La Perla for best lingerie, Laura Preshong for best engagement rings, Flair Boston for best bridesmaid dresses, All Fit Tailoring for best alterations, and BHLDN for best wedding accessories. 
Wedding food and drinks
When it comes to food and drinks these winners provide awesome and unique services for their clients! Congratulations Stoked for winning best food truck, Mayflour Confections for best desserts, Cakes to Remember for best wedding cakes, Saltbox Kitchen for best wedding caterer, and last but not least, Hive for best bar service!
Stay tuned for our next blog post on the McElroy Weddings site congratulating the Best of Boston 2016 Wedding Venues; it just might help you find the perfect location to have your special day!