Creativity is key when it comes to wedding planning! Every couple wants their wedding to be memorable not only for themselves, but for their guests as well!
A good way to make an imprint on someone's memory is with…food! I know, surprising, but many times when people attend events they look forward to the meals and desserts (and the beverages of course)!
But, the main focus (besides the bride) is the cake! The cakes big reveal is an important part of the wedding and every couple wants their cake to be unique.
In order to get your dream cake, you need to find the perfect baker that fits your standards. And by standards I mean do your research. Look at pictures on their website, look at their social media, reviews, ETC. If you can identify with their style of cakes, then you've found your match!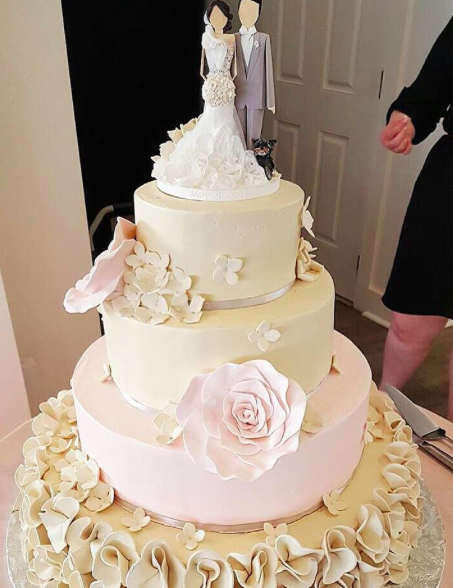 Make sure you have a clear vision of what you'd want your cake to look like. A good way to show a baker what you want is by pictures, search for wedding cakes and save the ones you love the most. You may like something about one cake and prefer something else over another cake and that's okay!
Don't be afraid to think outside the box! Some bakers incorporate sprinkles, glitter, ribbon, fake flowers, real flowers, edible flowers, different shapes, sizes, colors, ETC!
Couples typically prefer for their wedding cake to go along with their theme. Fill the baker in on even decorative details of the wedding! He or she may be able to design the cake around it!
For couples who aren't a fan of cakes, cupcakes are a good alternative! Bakers can place your cupcakes in a way that a cake is shaped. That way it still gives the illusion of a cake, but it is creative and fun! You can make each cupcake the same or have different flavors for the guests!
And if you want to go all out…. just get both!
Alright, enough food lovers talk.
Last but not least, weddings are special and every detail counts. Make sure to find the right videographer to capture these moments! At McElroy Weddings no detail is overlooked.
Contact McElroy Weddings today!