2014 Top 10 New England Wedding Venues
Boston, MA – August 18, 2014
Choosing a wedding venue may seem overwhelming, but after another year of filming at dozens of venues, we know there's something out there to suit every couple's style and budget. From gardens to golf clubs to barns, hotels, villas, mansions, and more, here is this year's list of McElroy Weddings' Top 10 Wedding Venues.
1. The Orangerie at Tower Hill Botanic Garden
The Orangerie is a beautiful reception area with glass cathedral ceilings and an attached terrace. The space, including a dance floor, wide windows, and intricate lighting, can hold up to 152 guests, who will be surrounded by the garden's rare subtropical plant collection. This year, Boston.com named it one of the "Best Spots to Propose in New England."
2. Wequassett Resort and Golf Club
Guests view the ceremony from a freshly landscaped lawn surrounded by expansive flower gardens with a backdrop of the serene Pleasant Bay. And to make your wedding even more memorable: the newly-weds wave good-bye from a departing boat cruise at the conclusion of the reception.
,
3. Topsfield Commons
Since 1854, Boston's North Shore Premier Wedding Venue provides on-site spaces for every aspect of your wedding day. You can exchange vows on the beautifully landscaped outdoor lawn, complete with a terrace and large maple trees that let in the perfect amount of sunlight. The ballroom provides unbelievable architecture, high ceilings, custom lighting, and a balcony overlooking Topsfield's historic town common for up to 200 guests.
4. The Barn at Gibbet Hill
This renovated, turn-of-the-century barn in Groton, MA provides an authentic and intimate setting any time of year. The Barn can hold 220 people and has a heated deck with a permanent roof where you can choose either an elegant plated sit-down dinner or a more casual farm-sourced reception. The Barn became a wedding venue accidentally in 2002 after a couple's outdoor wedding got rained out and they had to push the hay bales aside to create a wedding aisle: a charming and unique story to share with your guests!
5. The Villa
The Villa in Sharon, MA truly gives you the opportunity to personalize your big day – whether you prefer a private indoor venue or a tented venue surrounded by vast woodlands – whether you prefer an intimate space for 50 or a grand ballroom for 280. Book at The Villa and you're guaranteed a personal wedding coordinator, a complimentary food tasting for the bride and groom, complimentary champagne in the bridal suite, and much more!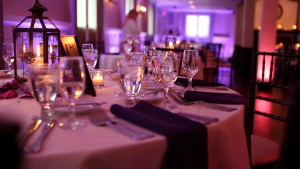 6. The State Room
If you're going for a more urban setting with unmatched views of the city skyline and the harbor, The State Room in Boston is the way to go. This modern venue is located atop the Sixty State Street skyscraper. A glass wall 20 feet high and 120 feet wide creates an unforgettable panoramic backdrop of the city. Other highlights include mahogany floors, a floating staircase, a mezzanine, and built-in projection screens.
7. The Log Cabin
The Log Cabin in Western Mass is a gorgeous setting on top of Mt. Tom that can accommodate up to 450 guests. The venue offers an extensive team of professionals – including in-house wedding planners and pastry chefs – that will cater to your needs and style. Recognized by The Knot, the Log Cabin provides spectacular sunset views, whether your wedding is in the dead of winter or on a breezy summer night.
8. Boston Public Library
The BPL may not be the first to come to mind when choosing a wedding venue, but the unique historic setting has been featured in The Knot's Best of Weddings as well as recognized by Boston Magazine and Wedding Wire's Bride's Choice Awards. The courtyard is the ideal romantic setting for exchanging vows and the building offers a wide variety of rooms for dancing and dining. The BPL offers a unique elegance right in the heart of Boston.
9. Mansion on Turner Hill
Between its mansion and the grounds surrounding this residential golf community, Turner Hill offers a variety of styles and sizes based on your desires. There is an outdoor wedding chapel complete with a fountain made from vines and stone columns. The ballroom can accommodate up to 140 guests for receptions – or you could go for the outdoor contemporary tent that holds 250. Either way, you're guaranteed an unforgettable night at The Mansion, chosen in 2013 for The Knot's Best of Weddings.
10. Castleton
Whether you choose the Castleton's Gardens, Waterfront Gazebo, or Cascading Waterfalls as the location for your ceremony, you're sure to have an incredible backdrop with a fountain, footbridge, and the reflecting Cobbetts Pond. After enjoying an amazing sunset, you can move the party inside, where there are intricately decorated lobbies, a baby grand piano, and an indoor waterfall. This venue allows you to relax and enjoy the scenery and beauty of your special evening.