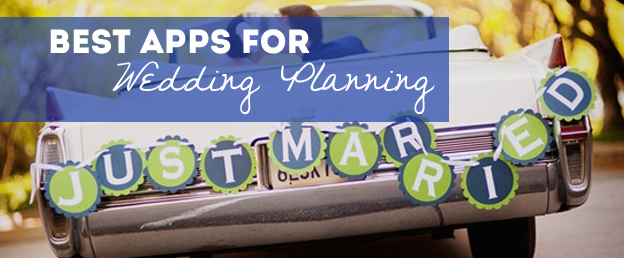 The stress of planning your big day overwhelming you and taking the fun out of it? Well, it's a great thing we live in a time where there's an app for anything! Download one of these amazing wedding apps and have all your wedding needs at your fingertips.
1.) IWedding Deluxe ($6.99): This app is the perfect fit for the Type A bride. With Iwedding Deluxe you can plan down to the smallest possible detail, you didn't even think about! The main goal of this app is to be your very own personal assistant. It works as a planner and organizer as well as gives you inspiration in order to make sure your fairytale wedding comes true just as it should!
https://itunes.apple.com/us/app/iwedding-deluxe-wedding-planner/id336602601?mt=8
2.) WeddingHappy ($4.99): Are you a bride that is just overwhelmed with all you need to get done while going about your busy days? WeddingHappy is the app to help you with that. It provides you with the tools you need to keep everything on track and up to date. It offers vendor management and contact integration as well. The app is designed for busy, savvy people who just can't be consumed by wedding details and planning 24 hours a day seven days a week.
https://itunes.apple.com/us/app/weddinghappy-wedding-planner/id432763910?mt=8
3.) 'Appy Couple (FREE): This stylish wedding app is a great way to share you your wedding details to family, friends and guest! From Save The Date to the honeymoon all they would ever need to know is right on their phones. It offers great features like; photo sharing, RSVPS, events, travel, stores and registry. Who knew it could all be wrapped into one!
https://itunes.apple.com/us/app/appy-couple/id492345619?mt=8
4.) ProWeddingPlanning ($4.99): This has to be one of the most advanced wedding planning apps out there. It seems as if they left not one detail out! This planning app effectively keeps full tabs on guests, budget and all wedding logistics you would ever need. ProWedding integrates all guests with Facebook so you can communicate with them through that platform with just a few clicks.
https://itunes.apple.com/us/app/pro-wedding-planner/id537028989?mt=8
5.) The Knot Wedding Planner (FREE): Brought to you by the nations #1 wedding planning resource is an app that can get you inspired, plan the details and book everything all in one place! With a great feature that automatically synchronizes everything on your phone or tablet to your TheKnot.com account there will be no detail unnoticed or left out. There are over 50,000+ ideas from real weddings that will get your creative juices flowing. They have a database of over 250,00+ vendors that can help with reception space, flowers, catering etc. This app is top of the line for brides that NEED to have every little detail accounted for.
https://itunes.apple.com/us/app/knot-wedding-planner-ideas/id457941553?mt=8