Decisions, decisions… A modern gown, or traditional? Roses or lilies? Charmed violet or tickled pink for the bridesmaids' gowns? Mini quiche or spanakopita for the hors d'oeuvre? It may seem like your life has turned into one big decision-making factory, and you're starting to lose interest…
But trust me: choosing songs for your wedding video is not a decision to be brushed under the rug. If you're stressing about choosing songs for your wedding video… it means you're doing something right. Although we do most of the work to make your wedding video incredible, your job of choosing the soundtrack is actually the most important. After making hundreds of wedding videos over the years, our editors are all in agreement that songs are the number one factor in setting a wedding video's tone, conveying its emotions, and telling the bride and groom's story. No pressure.
Luckily, for McElroy Wedding videos, you're not stuck choosing one single song. You choose separate songs for your trailer, your pre-ceremony, your reception, and your credits. Although the choice is ultimately up to you, our editors share some insider advice: they recommend choosing songs on the more cheery upbeat side for the pre-ceremony and reception. Why? The pre-ceremony appears early on in the video, setting the tone for the rest of the big day. Also, editors literally edit along to the soundtrack, changing scenes to the beat of the song; a more upbeat track makes the shots flow nicely and avoids dragging. It's optimal to choose an up-tempo song for the reception… for obvious reasons.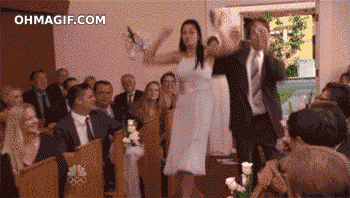 But if you can't get that beautiful ballad out of your head… or that romantic tearjerker that you shared your first dance to…
… no need to worry. The credits section is the perfect place to include those lower-tempo lullaby love songs.
So, all you need to do is find a couple songs that are upbeat but still romantic, classic but not dated, catchy but not cheesy, and most importantly: as timeless as your love and utterly unique to the two of you. Ready… set… go! Okay, maybe it's a little easier said than done. If you're having a little trouble, check out the top 10 most chosen songs from McElroy Weddings videos this year (below). You might see a song that slipped your mind or be inspired to move in a certain direction… (but maybe just avoid One Direction).
1. White Dress – Ben Rector
2. Feel So Close – Calvin Harris
3. Everything – Michael Bublé
https://www.youtube.com/watch?v=SPUJIbXN0WY
4. All of Me – John Legend
5. You Are The Best Thing – Ray LaMontagne
6. Best Day of My Life – American Authors
7. Marry You – Bruno Mars
8. A Thousand Years – Christina Perri
9. Good Life – One Republic
10. Happy – Pharrell Williams