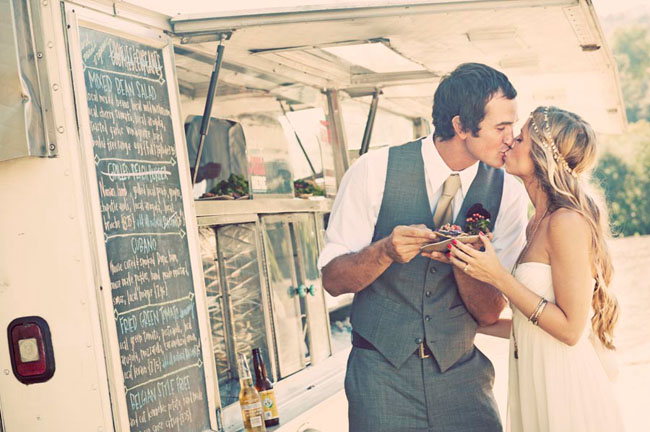 These days food trucks are no longer the dingy metal trucks that stand on street corners filling the air with greasy staple hot dogs and cheeseburgers. For a new twist on your wedding catering, ditch the "traditional" sit down dinner and try food trucks instead! Food trucks are no faux pas, they are a cheap, and trendy way to get your hungry guests their food quick and easy. Just keep in mind that it is a wedding not an NYC street corner follow these simple ways to make food trucks are a wedding "do" and most certainly not a wedding "don't".
 Introduce Your Guests To Something New: Use your day to introduce your family and friends to something new. Yes, they may take a step back at first when they see the offerings but after one bite the surprising combinations while have them coming back for seconds and even thirds.
 Keep The Menu Simple: This helps you and the cooks! By keeping your menu on the simpler side it helps control the cost and makes it easier for the cooks to get the food out faster. That's not to say go simple with your choices but by streamlining the menu down to fewer options it will keep your wallet and the cooks happy.
 Set Up a Wait Staff: Yes, a traditional sit down dinner is a great way to get to know people but if you are looking for a less formal alternative see if the food truck will allow you to hire a wait staff to pass out the food after the order is placed. This way guests can sit down and enjoy the food, rather than standing, which sometimes can be messy and disastrous
 Hire Several Trucks: For a smaller guest list you could manage with one truck but for a guest count of more than 200 it's recommended to hire two trucks. Make it fun, you can pick your favorite and then let your spouse pick theirs. This will create variety.
 Get A "Late Night Munchies" Truck: With all that dancing your guests and yourself are bound to work up an appetite. If you have it in your budget hire an indulgent truck that specializes in sweet or salty snacks that are offered into the wee hours of the night! You know that with a snack truck you guests will leave full and happy.